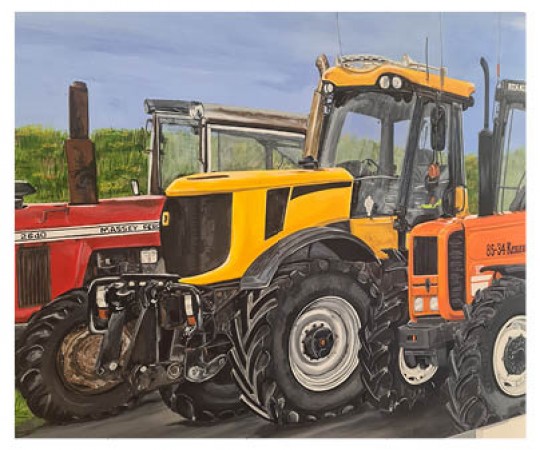 Tractor Art Hebirdes
Ness Based artist Sallie Avis began painting tractors in 2015. It all started when she saw her father working on his Ferguson TEA 20. She wanted to create a memory, to draw and paint the tractor which has been in the family since 1963. This was the beginning of Tractor Art Hebrides, a hobby which now takes up all of Sallie's free time, creating stock and working on Tractor Art commissions. The main challenges are to capture the depth and shine within the bodywork of the machine, illustrating how the details of the engine's components can be replicated with just a couple of strategically placed brush strokes. Sallie's media choices are either traditional watercolours or acrylics on canvas, depending on the required style for the finished artwork.
Tractor Art Hebrides exhibition
1st of November 2023 - February 2024 at Comunn Eachdraidh Nis
An Tilleadh
On Tuesday 18th April, a special event was held at Comunn Eachdraidh Nis to open our latest exhibition, 'An Tilleadh' (The Return). Following a year of planning between CEN and The National Museum of Scotland, locally discovered Bronze Age finds have returned to Ness. In 1910, an eclectic hoard of objects was discovered while peat digging near Adabrock. This hoard dates to the Late Bronze Age (c.1000-800 BC). It contains bronze axeheads, a spearhead, three razors and other tools, as well as fragments of a decorated vessel, two whetstones and rare beads of glass, amber and gold. It is one of the most diverse hoards in Britain.
Two Late Bronze Age bronze swords were found on separate occasions while peat digging at Aird Dell in 1891 and 1892. These swords are characteristic of the period, bearing elegant 'leaf-shaped' blades. One sword is incomplete, whereas the other one is still complete and reasonably sharp, even after three thousand years in the ground. More remarkably, an original horn handle survives on the second sword with attachment rivets embedded in the hilt.
The Adabrock hoard is one of the most important group of materials from Bronze Age Britain. Containing tools, weapons and jewellery, it speaks to the diverse nature of Bronze Age life, as well as connections across Britain and Ireland and beyond. We are grateful to our funders: Museums Galleries Scotland, Highlands & Islands Enterprise and Urras Oighreachd Ghabhsainn for supporting this project and to the staff at the National Museum of Scotland for advising and guiding us through the loan process.
The exhibition will run until April 2024.