This special collection will be exhibited at Comunn Eachdraidh Nis until April 2024.
With thanks to Museum Galleries Scotland, Highlands and Islands Enterprise and Urras Oighreachd Ghabhsainn.
Download An Tilleadh information booklet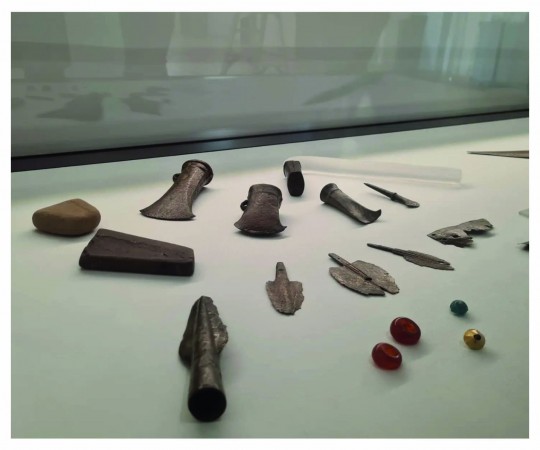 Adabrock Hoard
On loan from the National Museum of Scotland, Bronze Age artefacts found by Donald Murray near Adabrock, Ness in 1910. This hoard dates to the Late Bronze Age (c.1000-800 BC). It is one of the most diverse hoards in Britain.
Dell Swords
Also on loan is one of two Late Bronze Age bronze swords which were found on separate occasions while digging in Aird Dell in 1891 and 1892.
One sword is still complete and reasonably sharp, even after three thousand years in the ground. More remarkably, an original horn handle survives on the second sword with attachment rivets embedded in the hilt.